You want to create a classifieds webpage and don't want to spend your precious money on themes or scripts? This article presents a solution for you.
The classifieds sites have interesting features, perhaps the most interesting feature is the capacity of almost self-management, in the particular case of a blog or page it becomes necessary to add useful content to generate visits, these visits that will bring revenue but in the case of classifieds website the visitors themselves will generate new content, the administrator will only have to manage and oversee the page.
Classifieds Scripts, themes and plugins for free
The purpose of this article is this, I'm not talking here about commercial solutions, trying to make you buy something that I earn a percentage, even better, according to some research I found three very interesting solutions to create free classifieds web sites.
Open Classifieds Script
Open Classifieds is a free open source script for classifieds, advertisements or listings. This web application is developed to be fast, light, secure, SEO friendly, template enabled and easy to administer.
WP Classifieds
WP Classifieds is no more than the conversion of Open Classifieds script for wordpress, of course it is also free and allows you to transform wordpress in a powerful classifieds web page.
WordPress Classifieds Plugins
Well, this solution is most suitable for those who want to create a tab in an existing wordpress site and allows the easiest way to do this, of course it isn't as complete as previously suggested, and yet also free and does work as intended.
There are several plugins for wordpress that let you do this, I highlight here three options, and perhaps the best known among the free ones:
Another WordPress Classifieds Plugin (most popular)
WP-classified (works as intended)
Your Classified Ads (I liked the demo of this one)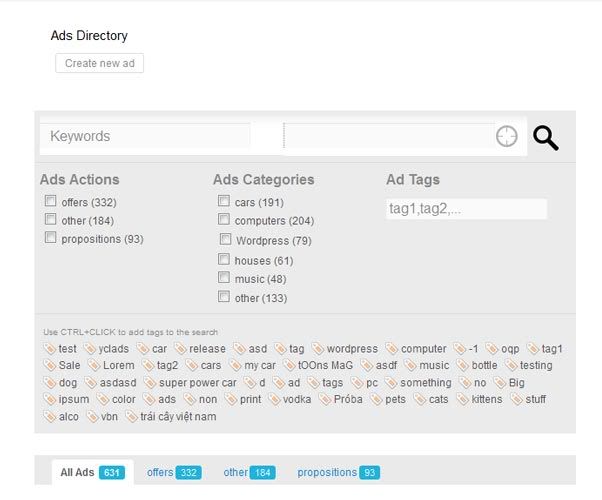 Conclusion
In the context of the conclusion we can say that both solutions have their advantages, however in my opinion the theme for wordpress is the best for those who want to create a web page from the ground exclusively dedicated to classified ads, just only because wordpress is a platform extremely versatile and easy to manage and with a great SEO optimization, all this combined with the thousands of plugins available for wordpress can be a great advantage.
Have you ever thought about creating a classifieds site? Suggestions to add to this list? Comments, opinions and criticisms are always welcome, as long as they are constructive.